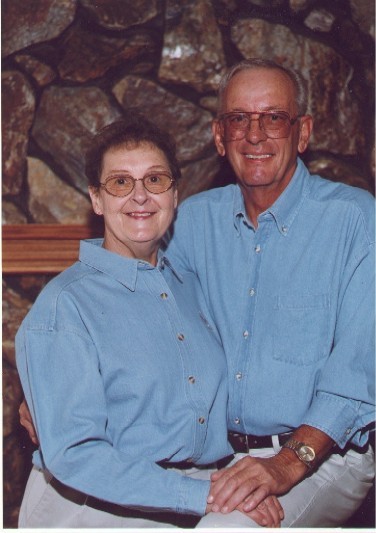 Cancer Survivors Celebrate 45th Wedding Anniversary
Dateline: Nebraska City, Nebraska (November, 2000). On November 5, 2000, cancer survivors Ron and Nedra Eiserman celebrated their 45th wedding anniversary privately at home with members of the immediate family.
Nedra was born in Nemaha County Kansas. She graduated from Bern, High School in Bern, Kansas and Lincoln General Hospital School of Nursing. Ron was born in Ste. Genevieve, Missouri. He graduated from Plattsmouth High School in Plattsmouth, Nebraska and attended Missouri School of Mines and the University of Nebraska-Lincoln. After meeting on a blind date. Ron and Nedra were married in Nebraska City, Nebraska. They have five children and ten great grandchildren.
Nedra has touched the lives of many people in southeast Nebraska as a Registered Nurse in a variety of settings. In 1986, Nedra was recognized as Nurse of the Year by the Nebraska Healthcare Association. Nedra is certified in gerontology by the American Nurses Association and she was the second woman inducted into the Nebraska City Rotary Club. Nedra continues to work part-time at St. Mary's Hospital in Nebraska City.
Ron had a lengthy career as a salesman. He has met a variety of sales incentives and won a variety of awards in his career. He has won safety awards from the Corps of Engineers Midwest Regional Office for River Conservation in 1958 and 1959. He was Grand Knight with the Knights of Columbus in 1967 and was District Deputy for the Knights of Columbus in 1968. He was elected Exalted Ruler of the Benevolent and Protective Order of Elks (B.P.O.E. #1049) 1971-1972. He was named Elk of the year for 1973 for (B.P.O.E. #1049) and was District Deputy in 1973-1974. He was general chairman of the (B.P.O.E. #1049) building committee in 1969.
In May 1994, Nedra was diagnosed with lymphoma and has since completed radiation and chemotherapy treatments. In October 1999, Ron was diagnosed with pancreatic cancer and received his resurrection with the lord on July 3rd 2001.
Nedra enjoys cooking, gardening, sewing, reading, Nebraska football and activities with her children and grandchildren.
Copyrighted August 2001. Send comments to: Mark Eiserman